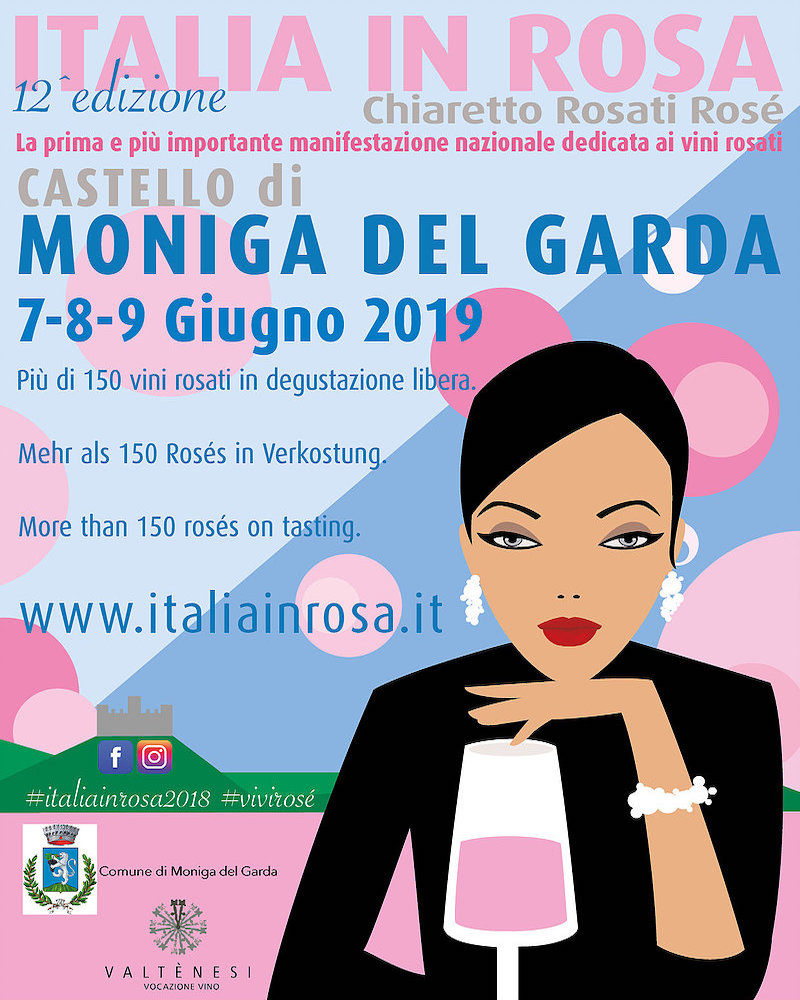 Italia in Rosa, the rosé wine conquers Moniga del Garda Castle
One of the most anticipated events on Lake Garda, Italia in Rosa conquers the stronghold of Moniga del Garda. It is in fact in the panoramic scenery of the medieval castle of Moniga del Garda that this event is organized every year which proclaims the rosé wine the absolute protagonist.
Three days involving almost 200 wine producers; a guided wine tasting experience through the main wineries in Italy. The event includes the purchase of an entrance ticket (approx. € 10) with a glass and a glass holder as a gift. The stands are arranged by regional membership. Each producer offers a tasting of their own pink wines with a brief excursus on their production.
During the event, moments dedicated to technical insights and comparisons aimed at industry experts are organized. The guided tasting is accompanied by culinary stands of local producers who with smart food and tastings will taste some of the specialties of the area. (strawberry risotto I highly recommend it!)
Small clarification on the etymology of rosé wine: the first origins can be traced back to Roman times, with the direct 'pressing' pressing: here the absence of maceration and brief contact with the must gives rise to rosé wine. The Roman presence on Lake Garda will do the rest.
Italia in Rosa was born with the need to enhance a wine with many qualities, which only in recent years has seen its identity rediscovered.
A food and wine journey back in the history of the production and processing of rosé wine which in the second millennium finally proclaims itself to be the single and undisputed protagonist of one of the most important Italian events linked to the tradition of wine.
An event not to be missed: the first weekend of June, in the hills of Valtenesi (Brescia's shore of Lake Garda) Italy arrives in Rosa, which colors the village of Moniga del Garda with pink and pomp.