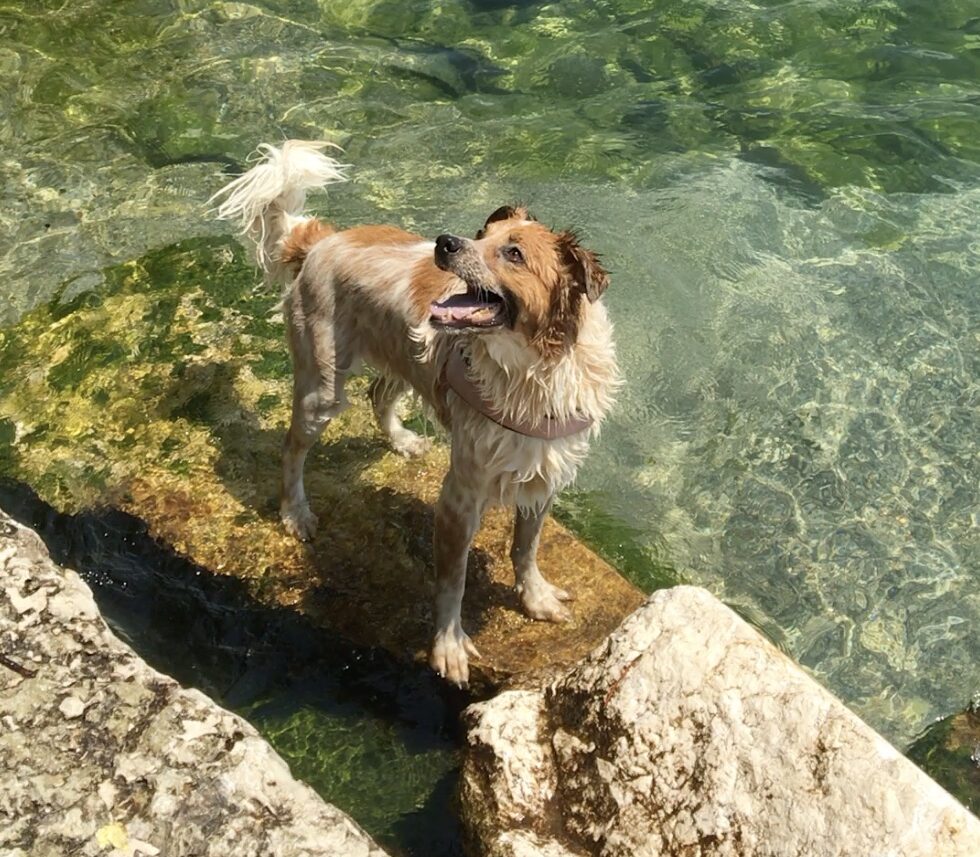 Pet friendly holidays on Lake Garda. Best tips!✌
Were you thinking of spending a weekend with your dog and thought of Lake Garda? Good. We have just a few tips for you if you want to plan your vacation with your dog on Lake Garda.
Traveling with a dog is getting easier and easier nowadays. In fact, more and more facilities are organizing to accommodate our four-legged friends and make many dog-friendly services available.
Nevertheless, we always have to spend some time on the web to search and research the solutions that suit our case and the case of our furry friends. Lake Garda is really an enchanting place; There are several locations that are really practical and well equipped to organize four-legged trips and vacations.
In this article I will try to give you some tips for finding dog-friendly beaches and facilities, parks and itineraries.
Let's start with dog-friendly facilities on Lake Garda:
If you love the comfort of spacious apartments and want the best for your dog, then I recommend the facilities Gardapartments based in Desenzano del Garda, Moniga del Garda and Polpenazze sul Garda. They are 3 elegantly furnished residences with swimming pools and pleasant private spaces. Without much ado, quality is assured !
If you were thinking of

taking a 'vanlife' style trip

with your RV or choosing the new glamping style campgrounds, then I definitely have to recommend you Vacanze col Cuore .They have 3 facilities in the area between Moniga del Garda and San Felice del Benaco, one of my favorite areas, and they have several solutions for pet friendly holidays on Lake Garda.
For summer, it is imperative to know which dog-friendly beaches to choose.
If your dog is as water-loving as mine, then I am sure he will not be able to do without it.
There are many beaches equipped for dogs on Lake Garda, but only a few are my favorites. Let's start by listing those available along the western shore of Lake Garda:
Manerba, Moniga, Portese, San Felice del Benaco, Desenzano, Gargnano, Toscolano, Tignale.
My favourite bau braches keep the Bau Beach in Portese (at Portese Harbour – San Felice del Benaco – continuing along the beach, towards the end you'll come to a dog-friendly section), then I would add the Bau Beach in Salò, nee to Mokai Beach Bar.
 The Bau Beach a Toscolano Madernowhich is located by passing the archaeological area of the Roman villa.
Last but not least in beauty is Bau Beach in Tignale. Let's say it is not a very wide beach, but it is still sparsely populated and the water is really beautiful. Park at the port of Tignale or in front of the Limonaia pra della fam, (which I recommend a visit to, by the way), the beach remains on the left from the port.
I have to post you the pic here below to show how amazing are the colors.
Now that we have said already given a few tips about facilities where you can stay overnight with your dog and beaches equipped for dogs (or at least that accept our four-legged friends) we can continue with a few tips about activities to do with your dog on Lake Garda.
Because if you don't know, there are also dog tours, great pet friendly experiences.
Here some suggestions: SUP tour in the company of your dog, or hikes dog friendly in the hills or mountains.
For your weekend getaway with the dog or a trip to the lake with the dog you are sure to have found some interesting ideas!
Follow us and we will keep you updated on activities and events organized on Lake garda for your four-legged friends. We will also reveal some really wonderful itineraries.