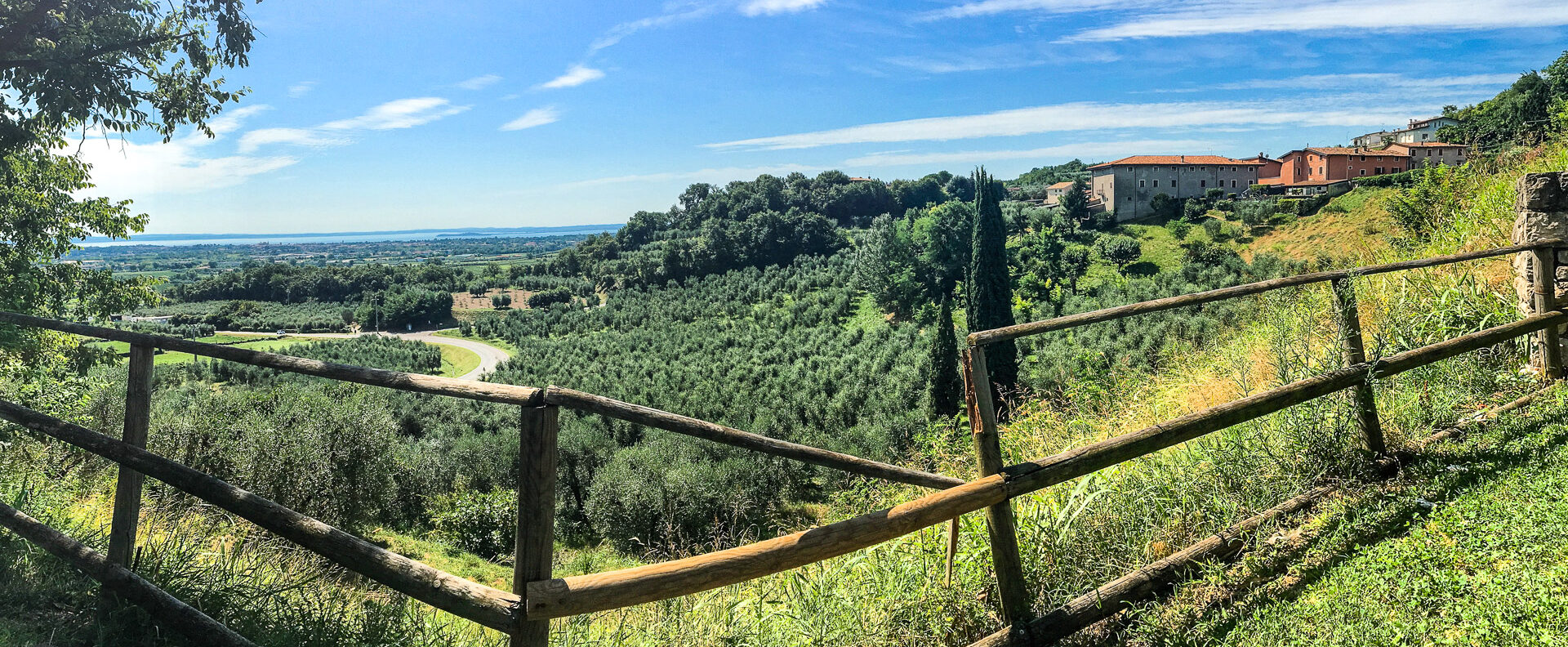 Valtenesi in autumn: Lake Garda between wine and sport
Have you ever thought about what destinations to choose for a short trip in autumn? On Lake Garda, you'll find the enchanting hilly scenery of Valtenesi. In autumn Valtenesi offers picturesque views, mild weather and experiences to no end. Today I want to tell you more about this area, and I am sure that after you finish reading you will run to plan your next weekend in Valtenesi. Let's now find out together what activities and experiences to enjoy in Valtenesi because the vacations do not end in autumn.
Wine tourism experience in Valtenesi: wineries and wine tasting
Let us begin by saying that Valtenesi is an area that owes its name mainly to wine. It is located on the western shore of Lake Garda in the province of Brescia and includes several municipalities-Desenzano del Garda, Padenghe del Garda, Polpenazze del Garda, Moniga del Garda, San Felice del Benaco, Muscoline, and many others. The boundaries are blurred, but many of these municipalities are part of it because they actually have land that grows Valtenesi wine varieties.
We can therefore infer that autumn is the best month to deepen the wine tourism experience. We are in harvest time and all the wineries lend themselves to grape picking, winemaking and bottling. Put like that it may seem like a very short process, far from it, the winemaking period is long and complex and includes many processes that vary from winery to winery, from wine to wine.
So a real first experience to have in Valtenesi is to book a visit to a local winery, perhaps to see the harvest process up close and of course to have a wine tasting. Tastings are not just about 'drinking wine' as many might think. They actually tell a lot about the culture of winemakers. Passion for wine is the cornerstone of this activity that is so widespread throughout the world. Knowing how to make wine is an art, let's not forget that. So why not find out more about this very popular culture, starting with the Valtenesi.
Outdoor activities and experiences in Valtenesi: sports in nature
Le attività da vivere in Valtenesi sono davvero molte. Per gli lovers of sports and outdoor activities, there is no shortage of options.
One of the most popular activities are the amazing bike tours. You'll enjoy ebike tours in nature, among trails and hilly routes to discover the wonders of the area. During this amazing experience on ebikes, besides having fun, you can discover a bit of local culture, and why not, visit villages and attractions. Valtenesi offers beautiful villages with medieval castles with authentic charm. Many are inhabited and therefore you can take photographs and visit them. You can also include some culinary experiences during bike tours. One of the most sought-after gastronomic experiences on Lake Garda, in addition to wine tasting, is a visit to local olive mills to sample the local oil. Bike tours are really a must, especially at this time when the weather is truly spectacular. Organize a bike tour or e bike tour in Valtenesi and enjoy unique sunsets, immortalize your local experience with authentic photo shots. Such a memorable experience!
For those who do not like the biking experience, we definitely recommend hiking or nordic walking. There are indeed numerous bike paths and walking trails that wind through the hills of Valtenesi. Most of the trails are marked and marked so it is impossible to get lost. The magic of these routes is that along the way you will visit various villages, you can discover local farms. There are also a number of professionals who can accompany you on these routes, to perhaps discover different, unmarked trails and combine tasteful stops. Because we definitely recommend trekking with taste, that is, organized routes between local farms to get to know and try the flavors of the area. As already mentioned Valtenesi and Lake Garda in general offers a lot in terms of local gastronomy : oil, wine, lemons, capers, cheeses and mustards, saffron.
We really have many suggestions for a tasteful weekend walking or biking on Lake Garda!
Relaxation and wellness: horseback riding, cultural visits and spas
There are so many experiences on Lake Garda that I could propose, perhaps endless. So I would say that we could add two more definitely interesting ones before concluding this article.
The first one is about horseback riding: with the autumn colors of the vineyards and the hilly views of Lake Garda really make you dream. We are not talking about a real sport, nor an adventure. Horseback riding tours are relaxing and exciting experiences to enjoy the landscape. We suggest you take advantage of them during your weekend in Valtenesi.
The second, also on the relaxation theme, are wellness and cultural stays. There are many museums to visit, as well as the beautiful local villages. There is no shortage of spas, and the terme di Sirmione are just steps away to indulge in a rejuvenating experience.
In conclusion we could say that Valtenesi is really a territory to be discovered. A vacation on Lake Garda is not only in summer and it is not only fun. Lake Garda attracts many types of visitors and tourists, those who are fascinated by the landscapes, those who love outdoor sports. And those because they love to spend a few days in this natural paradise.
Take it from me, choose a weekend and come and discover Lake Garda and its Valtenesi area.
Valtenesi in autumn is a sight for the eyes and for the heart!